Teeth Straightening
Teeth straightening, also know as orthodontics, is a wonderful way to rectify crowded or misaligned teeth. It is growing in popularity, especially amongst adults, because it has the advantage over veneers and crowns in that the teeth are not drilled. Our dentists at Huntingdon Dental Care can assess your needs and provide you with tailored treatment.  We offer the low-visibility, clear Invisalign.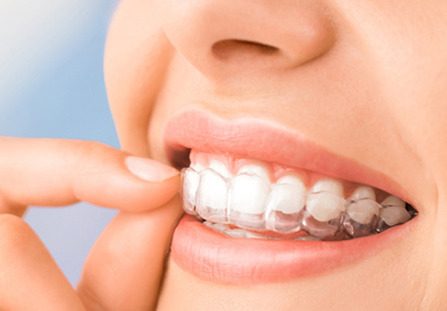 Invisalign – the clear alternative to braces
Invisalign is a discreet and comfortable way to straighten your teeth and transform your smile. Each clear aligner moves your teeth a small amount until the required position is achieved. Your aligners are created using the latest digital technology and manufactured to your prescription.
Why Choose Invisalign?
Low visibility brace– no metal at all, hardly anyone will notice them.
Removable– Invisalign can be removed for meals and special occasions.
Healthy– as the aligners are not attached to your teeth they allow for normal brushing, meaning it's easier to maintain healthy teeth and gums during treatment.
Comfortable– no metal brackets or wires to irritate your gum or the inside of your mouth.
The Process
Once we have confirmed you're eligible for treatment, we take photos, x-rays and digital scans, or a dental impression, of your teeth. These records will be used to create a bespoke 3-D treatment plan.
At a subsequent appointment you'll receive a set of custom-made aligners which should be worn at all times apart from when eating or brushing teeth. Average users wear each aligner approximately 18-20 hours a day. You'll visit your dentist around every 4-8 weeks to monitor progress and receive new aligners. The length of treatment with Invisalign is determined by the complexity of each case and can range from 2-3 months to 18 months.
The really striking benefit of Invisalign is the fact you can straighten your teeth with virtually invisible braces and many of our patients tell us friends and family don't even know they're having treatment!
After finishing your orthodontic treatment plan, retainers will be required to maintain your new smile.
The good news is your final Invisalign retainers can double up as your whitening trays, should you wish to whiten your teeth after the treatment!
The cost of teeth straightening varies with complexity – our prices can be found in the fees page, however it's best to come in and chat to one of our dentists about your treatment options and costs.
For more information on Invisalign visit: https://www.invisalign.co.uk/
Alternatively, complete our enquiry form and we will give you a call back as soon as we can.