Dental Examination
Regular check ups and having your teeth cleaned professionally is essential to protect the health of your teeth and gums. Dental examinations give us the opportunity to identify and treat potential problems before they become painful or complex. We want you to feel confident in your smile and will give on-going advice to enable you to achieve your optimum dental health.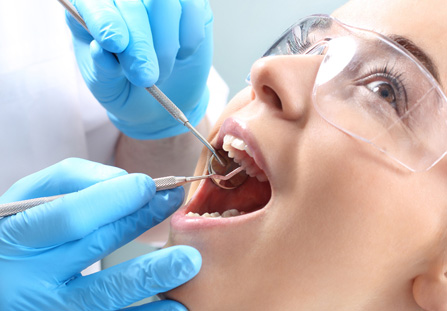 Your initial and regular check ups include the following
We ask if you are concerned about any aspects of your dental health.
Do you have medical conditions, or are you taking any medicines, which are likely to impact on your dental health?
We carry out a lifestyle assessment to identify any risk factors that may affect your oral health.
We examine your teeth and gums and assess their health.
We examine any fillings, crowns etc. and check for stability, function and aesthetics.
We check for plaque in your mouth.
We carry out an oral cancer screen (examination of the inside of your mouth including tongue, cheeks, lips, floor and roof of mouth).
We examine your bite for signs of wear or instability, eg. toothwear.
If clinically indicated we carry out x-ray screening to check in between your teeth and the quality of your bone.
After the examination we will discuss with you any treatment requirements you may have and offer advice on how to protect your teeth going forward. Depending on the condition of your teeth and your previous dental treatments your dentist will usually recommend a dental check up at least once a year or every six months.
For further information on any of these services or to book an appointment, contact us on 01480 453215.