Dentures
What are dentures?
If you have a few or all of your teeth missing, one solution is to have a denture. It is made from hard-wearing material that mimics the look of teeth and gums to give your mouth a natural appearance. Your denture will be made to fit snugly on your gums and you will be able to remove it for cleaning.
Complete or full dentures replace all the teeth, while a partial denture fills in the spaces created by missing teeth and prevents other teeth from changing position.
How can I get dentures?
To have a denture made, it would need several stages and will take a few visits (usually 4 or 5). The first will include your dentist taking impressions of your mouth to make models with. These models are used to custom-make your dentures.
In Huntingdon Dental Care, we have an onsite laboratory, which makes the turn around time for dentures much shorter than other practices being a week apart between denture visits, which means you can have your dentures much faster.
This also means we can provide you with quick emergency dentures within a record time if you are in a desperate situation, such as having a front tooth knocked out/ lost front crown, etc. An extra charge will apply for this fast-track service.
Not to mention, our denture technician has invaluable experience and knowledge providing excellent dentures both in fit and appearance.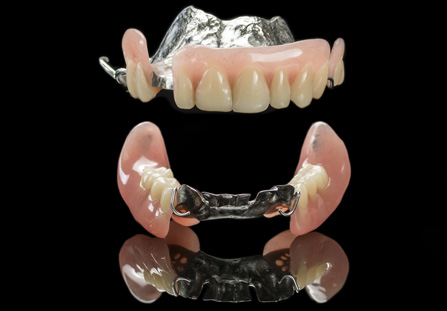 Chrome Dentures
You can have chrome dentures as either partial dentures or full dentures. These light alloy dentures are an alternative to the usual pink plastic partial dentures and are made of a mix of pink plastic and a chrome metal frame.
The metal used to make chrome dentures has been tested over many years to make sure it's biocompatible with your mouth and the metal used is cobalt-chrome.
The advantages ofchrome dentures are:
Reduced bulk.
Better for overall oral hygiene.
Lighter yet stronger.
In many cases, less coverage of the roof of the mouth.
Increased comfort.
Less coverage of the palate which means better sensitivity when eating ice cream, have a hot coffee and better taste.
Immediate dentures
As the name implies immediate dentures are those that can be made and offered to a patient very quickly. They are made in advance and fitted straight after a tooth extraction.
You can get a full set of immediate dentures or partial ones. You have to be a good candidate for this type of denture and it will certainly not be suitable for all.
Immediate dentures allow patients to go about daily life without a gap in their teeth or having no teeth at all.
These immediate dentures are a temporary solution whilst the gum and jaw heal and the permanent denture are made. Alternatively, patients may opt to have other tooth replacement options such as implants or a bridge. As they are fitted before the gums and bone has healed, they can require minor or even major adjustment throughout to ensure they fit properly during the healing process.
You will need to consult with your dentist as to whether or not immediate dentures are an option and the procedure involved. Individual circumstances and cost will all come into play here.
Looking after your dentures
On the whole, dentures are strong and hard-wearing and should last for many years. Have regular, yearly check-ups so that we can check the health of your gums.
Remove your dentures at night, unless otherwise directed, to give your gums a chance to rest.
Clean your dentures daily with a toothbrush or a special denture brush – don't use toothpaste, denture cream is preferable.
When not wearing it store your denture in water or denture fluid. If a denture dries out it may go hard and change shape.
Rinse thoroughly before you put it back in.
Remember your gums and any remaining teeth still need brushing and cleaning twice as day as normal.
Your jawbones and gums can naturally shrink over time and this can cause the dentures to fit less securely over a period of time. Ill-fitting dentures can give rise to chewing difficulties and soreness. Your dentures may need to be adjusted from time to time, or may need to be replaced to ensure an optimal fit.
For further information on any of these services or to book an appointment, contact us on 01480 453215.